Optical Brightening Agent for Plastic
Details of Optical Brightening Agent for Plastic
Properties: white powder, increase the brightness, dispersion and liquidity.
Apperance: yellow crystal powder.
Application: It is used commonly in all plastics. PVC, PE, PP, PS, ABS, PA, PMMA, acrylic resin, polyester fiber paint, adhesive and other organic substrates.
Storage: keep in cool and dry place, far away from high temperature and sunshine.
Methods of Addition: To be effective, an optical brightener must dissolve in the polymer to which it is added. Since the typical addition levels for Optical Brightening Agent in the range of 100-400 ppm, the use of a concentrate, or masterbatch, is recommended.
Optical Brightening Agent Advantages:
1. This Optical Brightening Agent product is easy to use, can be arbitrary proportion miscible with water, is suitable for continuous addition.
2. Optical Brightening Agents have good acid-resistance, under low PH value also has excellent whitening effect.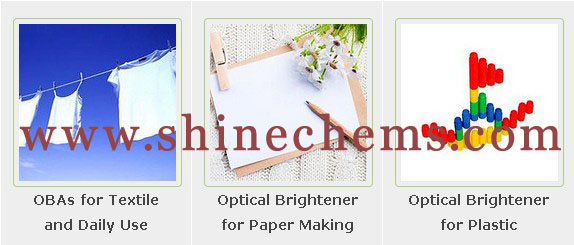 China OBA professional manufacturer, supply high quality and best price of Optical Brightening Agent for Plastic. If you are interested in our Optical Brightening Agent for Plastic, please contact us. Email: info@shinechems.com