Optical Brighteners for Coatings
Wuhan Shine Technology Co., Ltd. manufacture and supply fluorescent whitening agents (FWA), also called optical brighteners (OB), designed to brighten colors or mask yellowing in plastics, lacquers, paints, inks, photo-processing solutions and fibers. These optical brighteners work via a fluorescent mechanism which absorbs light in the UV spectrum and emits light in the blue region of the visible spectrum to yield a brighter, fresher appearance.
The Benefits of Optical Brighteners for Coatings:
1. Brilliant, bluish whitening effects, such as Washer/dryers, refrigerators and other appliances appear whiter when FWAs are added to the paint.
2. Good light fastness, brighten and increase the deep tones of colors in overprint varnishes for a variety of packaging applications.
3. Excellent resistance to heat, particularly recommended for high bake systems such as coil and powder coatings.
4. High chemical stability.
5. Low volatility.
6. Readily soluble in organic solvents, optical brighteners are used in photographic developing solutions to brighten whites and increase the deep tones of black, as well as reduce stains in processed color prints.
7. Good compatibility with most substrates.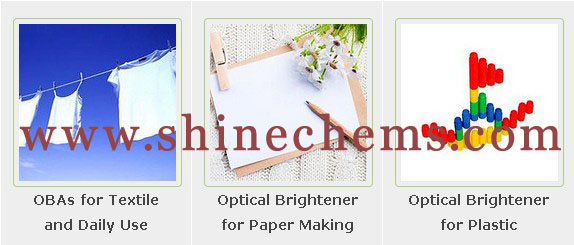 China professional manufacturer and supplier of Optical Brighteners, offer high quality and best price Optical Brighteners for Coatings. Learn more about product details about Optical Brighteners for Coatings, please contact us. Email: info@shinechems.com