Optical Brightener OB1
The Brief Details of Optical Brightener OB-1
Synonyms: 2,5'-bis[2-(5-tert-buty l-2 benzoxazoly)] thiophene; Fluorescent Brightener 184; 2,2'-(2,5-thiophenediyl)bis(5-(1,1-dimethylethyl)-benzoxazol
Molecular Formula: C26H26SO2N2
Structural Formula:


Storage: It is recommended to store Optical Brightener OB-1 at room temperature and to protect against heat and frost. Keep container closed when not in use. Store in a cool, dry, well-ventilated area away from incompatible substances.

The Applications of Optical Brightener OB-1
1. Optical Brightener OB-1 additives are often used to enhance the appearance of color of plastic and fabric, causing a "whitening" effect, making materials look less yellow by increasing the overall amount of blue light reflected.
2. Optical Brightener OB-1 is highly effective in polymer substrates such as engineering plastics, PE, PC, PVC, PS, ABS and PP, adhesive and other organic substrates. Especially rigid plastic (Polyethylene pipe, polypropylene pipe, Thermoplastics pipes, Thermosetting plastic pipe, etc) resulting in their strongly fluorescent appearance under UV illumination.
3. Optical Brightener OB-1 used in papers and fiber, paper brightness is typically measured at 457 nm, well within the fluorescent activity range of brighteners.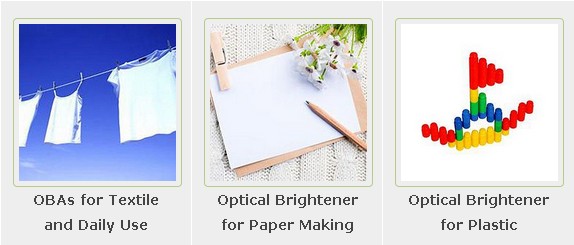 China professional manufacturer of Optical Brightener OB-1. If you are interesting in our Optical Brightener OB-1, please contact us. Email: info@shinechems.com