Optical Brightener Additives
Optical Brighteners (OBAs) or Fluorescent Whitening Agents (FWAs) are added to products, such as laundry soaps, detergents, and cleaning agents. They adsorb to fabrics or materials during the washing or cleaning process and when illuminated by ultraviolet light they fluoresce and make products and fabrics appear brighter.
Optical Brightener Additives Applications:
Optical Brighteners mainly used to brighten cellulose and polyamide fibers, cotton fibers, cotton fabrics, Capon fabrics and Pulp, and also used to in crease brightness of light-colored fabrics and paper industry.
1) cotton fiber and glue fiber.
2) the syrup of discharge pattern of printing color.
3) paper pulp.
4) the process of surface gluing.
5) the process of coating.
Usage of Optical Brightener Additives for PP:
1. fiber ( Carpet, Textiles, Upholstery, etc.)
2. film ( shopping bags, casting film, multilayer film, etc.)
3. blow molding ( Medical & Cosmetic container, Lubricant & Paint container, etc.)
4. extrusion molding ( Sheet, Pipe, Wire & Cable, etc.)
5. injection molding ( Automotive, Electronic, Construction, House wares, Furniture, Toys, etc.)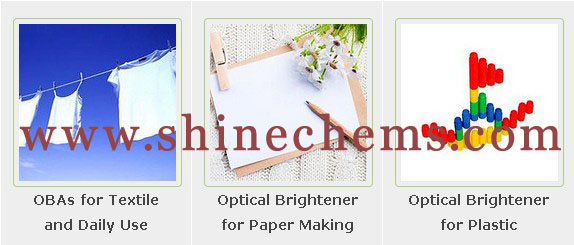 China professional manufacturer and supplier of Optical Brightener Additives, offer the high fastness and best price of Optical Brighteners. If you are interested in our Optical Brightener Additives, please contact us. Email: info@shinechems.com