OBA for Paper Making
Optical Brightener for Paper Industry
When Optical Brightening Agent being used in paper industry, add OBA into the paper pulp, coating solvent and surface gluing solvent after dissolving with the 20 times water. Usual dosage: 0.1-0.3% on dry pulp or dry dope. Also the OBA can be applied to whiten cotton, linen and cellulose fiber as well as cellulose fabrics, and to brighten light-colored cellulose fabrics.
The Optical Brightener should be stored in cool, dry and ventilate place, and storage peroid should not exceed 2 years.

Optical Brightening Agents(OBAs), also known as Fluorescent Whitening Agents (FWAs) can be used to make white, uncoated printing and writing grades Papers. High brightness and whiteness can impart the sensation of cleanliness and help increase the legibility of the text.

OBAs work by absorbing ultra violet (UV) wavelengths of the illuminant that are not visible to the human visual system and fluoresce at longer blue wavelengths, increasing the amount of blue light that reaches the eye, making the paper appear brighter.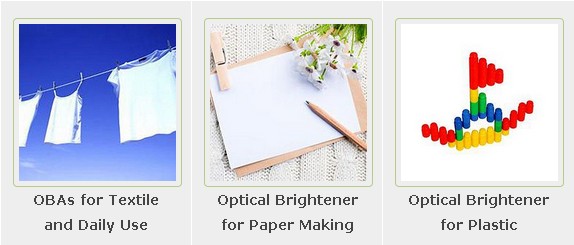 Wuhan Shine Technology Co., Ltd. as one of China Optical Brightening Agent Manufacturers, supply high quality and best price of OBA for Paper Making. If you are interestiing in our Optical Brightener, please contact us. Email: info@shinechems.com