Fluorescent Optical Brighteners
Fluorescent Optical Brighteners Features
1. Pale green powder, tasteless, dissolvable in paraffin, fat, olefin and most organic solvents.
2. Good brightening effects and weathering resistance requires a small quantity but can be widely used.
3. Has good acid and alkali resistance, excellent whitening effect.
Fluorescent Optical Brighteners Uses
Fluorescent Optical Brightener can be used in the whitening of thermoplastic plastics, PVC, polystyrene, polyethylene, polypropylene, ABS, cellulose acetate, paint, coating, printing inks, etc. Brightener OB can be used in whitening of polymer at every processing stage, bring products brilliant blue white lustre.
Fluorescent Optical Brighteners Method of Application
1. Fluorescent Optical Brightener used for pulp bleaching, can added to the slurry directly, conventional dosage: 0 3-1.2% (on dry pulp).
2. In surface sizing, Fluorescent Optical Brighteners can be used together with the starch, CMC, PVA, etc. Get better whitening effect.
3. In coating process, Fluorescent Optical Brighteners can be add in the PVA, CMC. Could get better results when use with starch, conventional dosage 0.1-1.4% (by weight of the coating).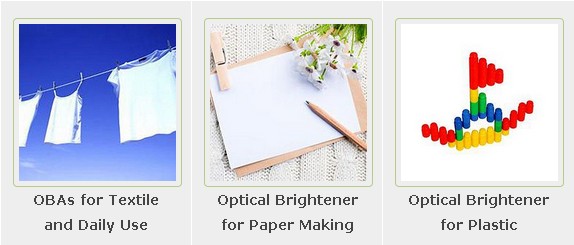 China professional Fluorescent Optical Brighteners supplier, welcome to buy Fluorescent Optical Brighteners from us. Email: info@shinechems.com